Twas the night before Christmas* and across the world Saint Nick' was delivering iGoodies…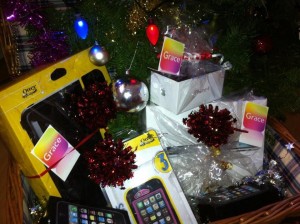 Whatever you celebrate at this time of year, Grace App would like to make it easier to give the gift of independent communication. So if there is an iPad, iPod Touch or an iPhone in your stocking, you can now get Grace App for €20 or $25 (Average value of an iTunes Gift Card) for the next few days. I am also giving away an iPod Touch Otterbox Defender cover which was kindly donated by Otterbox Ireland, on my Facebook page so be sure to pop over and leave a message to go in the draw.  I will post it anywhere in the world.
UPDATED 30/12/2011: THE SPECIAL IS NOW OVER.
From all of us at Grace App Communications, I wish you the very best of the season and a happy and hopeful new year.
*Christmas, Ḥănukkā, Kwanzaa or New Year