In the 5 years since I began developing Grace App I have paid for and trialled countless cases; Gripcase is the first one I have seen designed SPECIFICALLY for kids.  And kids are rough, whether they have extra needs or not!It is also the first case I have ever tried that got an immediate reaction on Facebook. Seriously, I put up one photograph when I unwrapped it: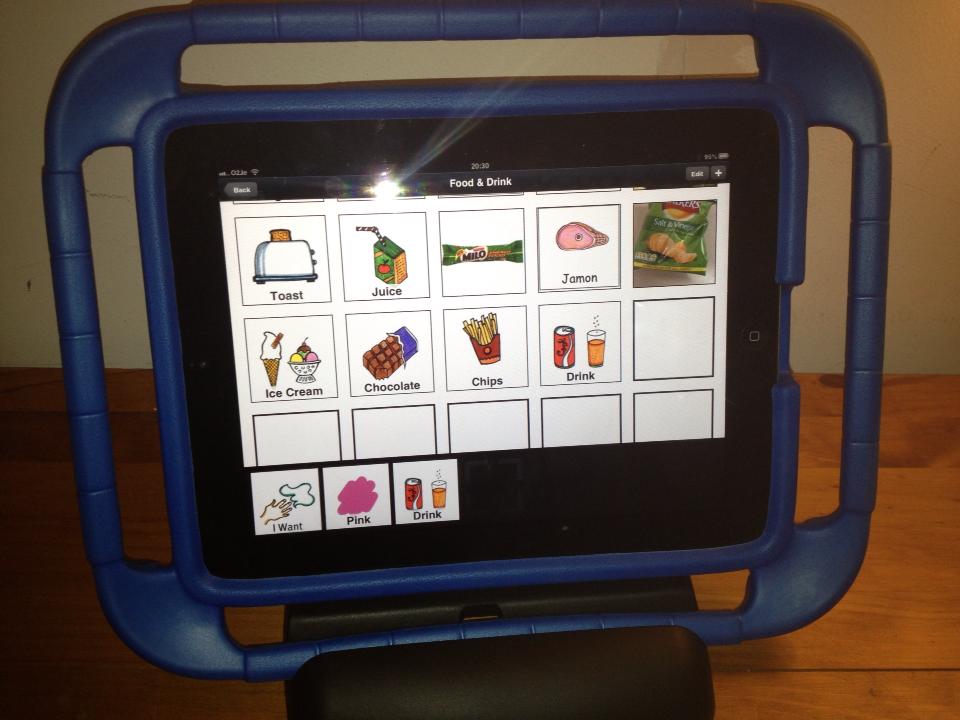 And I get 15 comments asking where to get one.
You can get it online at CompuB Store  with delivery around Ireland.
The Gripcase is exactly what it looks like;  a durable "shock absorbent case that protects iPad during impact" The easy grip design means there is a lot less likelihood of dropping and incurring an impact.
As the mother of two autistic kids I checked on the chewability – the case is made of non-toxic materials that do not break up when picked at or bitten (I actually tested this myself: chewy with no weird aftertaste)
My Facebook Friend Eileen told me this:
"In our house we have two iPads between four boys with ASD. We did have a third although but unfortunately it was broken by my 6 year old. EJ has low muscle tone in his arms due to Hypotonia. When we seen the Gripcase we thought it would be a great investment to protect his iPad. What we have found with is that the handles are a lot easier for little hands to manage as they can wrap their fingers around it to hold the iPad while moving around. The iPad has been dropped on a numerous occasions, but with the Gripcase being made of a spongey material it has bounced !! Even when it fell screen down on the floor the Gripcase protected it. On the downside there is no screen protection. We had a screen cover already on the iPad but because the Gripcase moves slighty with use it has started to lift the cover. We have tried different protection cases for the iPads and the Gripcase is probably the best one we have tried."
and "I forgot to mention how EJ loves to chew it !! It's like incorporating a chewy tube with an iPad cover !!!!"
She backs up her review with this:
The case is also very light as you can see above, and comes with a handy stand for watching movies or sharing a game. Unusually the stand works equally well on portrait or landscape aspect – not many cases do that.
While this case ticks all the boxes for many users, I don't see it suiting us. We use our iPads for typing and since I learned to touch type on a manual typewriter in the 1980's, I tend to be a bit hard on the keys. My son learned to type from me and is even tougher at about 150 words per minute!
So we are sticking with our covers with the built in polycarbonate covers, like Otterbox Defender III. I also like the iPad mini to be mobile for using Grace App when we are out and about, so we need to be able to stretch a Chatbag over it.
However, I am delighted to recommend it for entertainment, therapy  and especially hand-writing and drawing Apps where you need to use a finger or stylus directly on the iPad screen.
It could be the Best Case for what you need. xx