With thanks to the excellent Adam and Friends learning, development and sensory solutions, I will be presenting a 2 hour Grace App workshop on 3rd April in Ballycoolin, Dublin 11. 
Training Details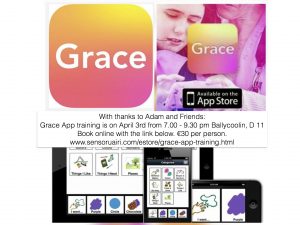 The Grace App Training lasts for 2 hours* with a half hour for questions.
Attendees will learn:
1. The Six Steps to setting up Grace App as an Alternative Augmentative Communication (AAC) system.
Alternative Communication Strategies:
2. Saying No/ and Wait
3. Teaching First, Then
4. Differential Reinforcement
5. Asking for Help (Replacing inappropriate behaviour)
6. Tell me Where it Hurts
7. Shared Attention.
Spaces are limited to go here to book: www sensoruairi.com/estore/grace-app-training.html
Parents and professionals most welcome.