After an iPad was donated by an anonymous benefactor to our "I Want my iPhone for Autism" fund – I knew I had to find a way to protect it in order to use it to demonstrate Grace App to Autistic and other Special Needs kids. (as requested by the donor).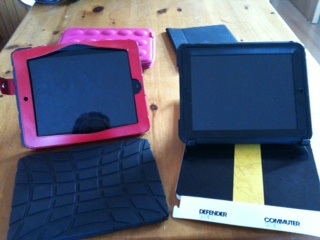 The first test involved being bitten – then caught before it could be flung. So I knew that the pink padded storage case was a non-runner.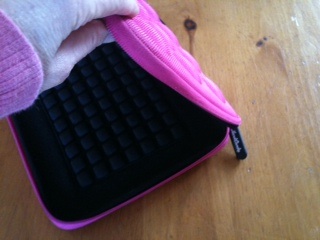 Next I tried these rubber covers, within the Hard Candy Pink cover.
Then one of the little book style covers that you make into a stand. It makes the iPad less slippy, protects against bangs and knocks. But not really mobile.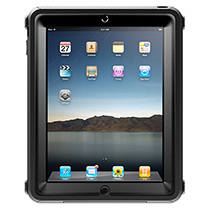 Then after I reviewed the Otterbox Defender for iPod Touch, my Mentor tweeted me to suggest I ask Otterbox about a cover for iPad. So I did, and the lovely Rhona Cashman from Otterbox's Cork Office sent me this and some other covers – For Free!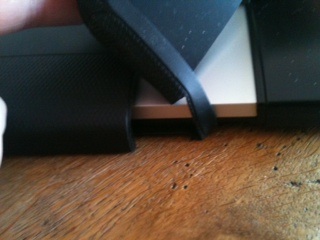 It's a little different from the iPhone and iPod cases. The screen protector is stick on.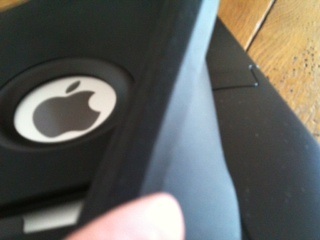 But you get the same hard shell cover, with a thick rubber cover over that. Quite tight fitting, and keep the box because you will need to follow the instructions, but once on it won't be removed by little fingers (or teeth).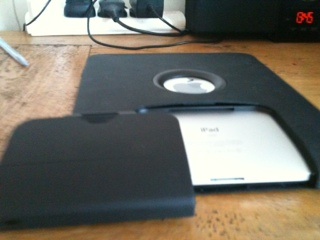 There is a removable slide to allow you to charge it without taking the whole cover off.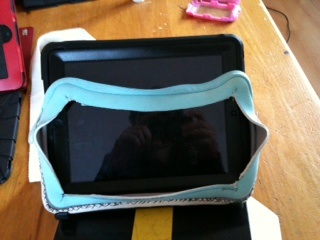 I didn't want to compromise the construction by adding lanyards, so I made a second cover out of a neoprene bag intended for a 7 inch portable dvd player.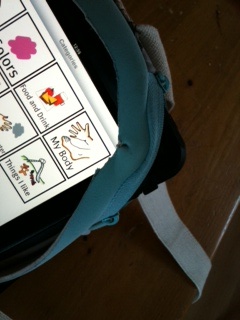 It pulls very tightly over the Otterbox, a firm fit.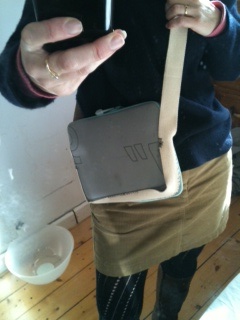 And I can undo the zip a little to switch it on or off. To this I had hand sewn a very wide canvas strap. A wide strap is necessary to remove the temptation to twirl.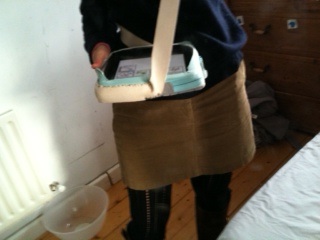 As you can see I can access the screen and turn it to face whomever I am communicating with.
It is not the prettiest of jobs. A commercial sewing machine or some kind of ready made neoprene case would be better – but it is a solution of some sort to the problem of portability.
But is it really "mobile"?
In the workshops I attended at the World Summit Awards for Mobile Content, they encouraged us to think about the difference – and how our product was genuinely mobile. (or we wouldn't have won!) From an Autism point of view, it is unethical to implement a system of communication and reward the pupil for using it, – Then take it off them at playtime because you are afraid they might break it.
Having said that – there are many mis-informed Autism Service Providers who only allow kids to use their pecs books at meal times. I have first hand experience of this. It is not recommended. But that is not what Grace App is about. Grace App is about empowering the User to take control of their communication and use it independently.
As and when and WHEREVER they need it. Otherwise we force the user to resort to their previous methods of getting attention – like leading, tantrumming or aggression.
Personally, while I would allow the kids to carry the iPad around in this holder., I would not let them go unsupervised with it. It is just too expensive and precious.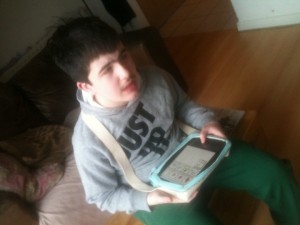 Here is Liam complaining about having his picture taken with the case. He is highly verbal but uses the iPad to "script" on Prolouque2Go.
Since Gracie is primarily an iPhone user and with the Otterbox I let her take it everywhere, with or without supervision – the iPad is only really an "Add on" for us. We need the mobility. But what I want to know is: Are you giving your child independent access to the iPad at all times? – and if so, what cover are you using?
Or are you offering them a back up device for transitioning, like an iPod or their old portable pecs book? Let me know.