Over the years I have had to explain many times why Grace App does not "speak" for the person using it. Why does the user have to select pictures, then go and find someone who will point, pause and if needed verbally prompt each word as represented by the picture.
It would be so easy to add an electronic voice to the App. In fact, anyone can add an electronic voice to it using the device accessibility settings.
The reason I don't do this is because I believe 2 things are fundamental to the App.
1. It is not about "speech" or "vocalisations" – it's about communication. So if an individual can select a picture of something they like, need or want and show it to you, they are communicating.
Speaking if it happens is rewarded, but if it doesn't, the meaning is still clear and the needs can be identified and met.
2. Why should the person with the disability have to imitate our speech sounds in order to be accepted and understood? Sure, I realise there are many many people with autism who rely on speech generating systems to communicate fluently. But there are many many others who think and communicate in pictures who deserve to be treated equally. They do it without autoclytics or standard grammar. They also do it without nuance. They take the shortest route to being understood in order to get what they need without getting frustrated or resorting to inappropriate behaviour that causes distress.
If that is enough for them, it should be enough for us. That doesn't mean we should not encourage and reward "extra" efforts with communication. I can't help but be absolutely delighted when my daughter calls me "Mummy" – and she knows it.
But I am also very happy when she shows me a picture of the nightie that I just put in the wash because she wants it back. That is much better than crying and screaming and trying to pull it out of the washing machine. Or she shows me a picture of the "Bear in the Big Blue House" DVD that she wants me to order.
I don't expect her to say she wants to "wear" the nightie or "watch" the DVD. Her meaning is implicit in the request. And her request is valued.
I can answer in kind by selecting the "no" symbol for the nightie (which has to be washed after an accident) or the "wait" symbol for the DVD, which is followed by a search on eBay.
I can then help find a few Youtube clips of the Bear and watch them together. I can also set up a drawing game on the iPad where she requests each of the characters from "Bear" or any other show she likes by colour and I draw them. I get to share this activity with her because I know what she likes by following how she communicates.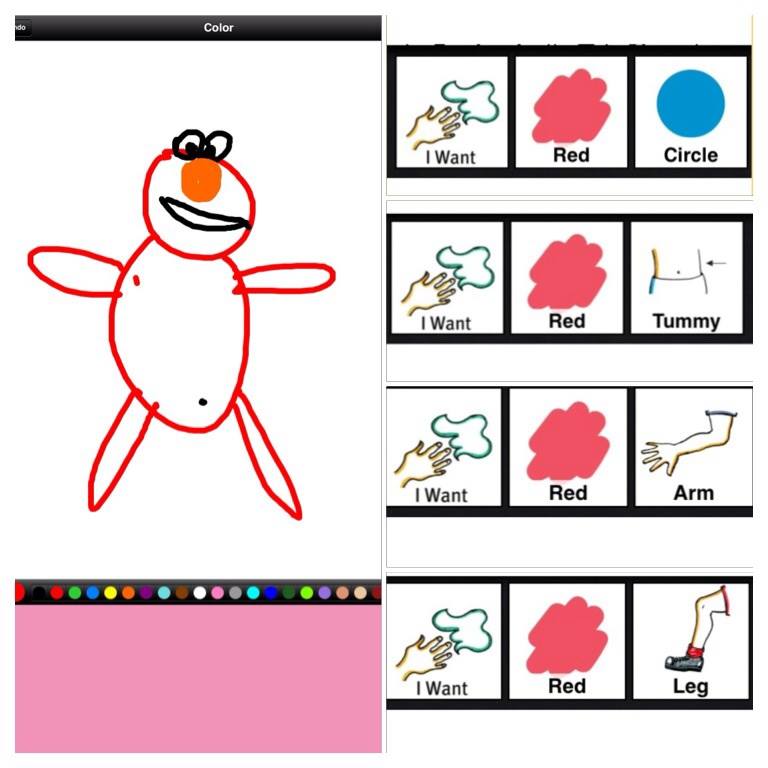 It comes from her and she decides what it means. And that means everything to me.
And this is why: