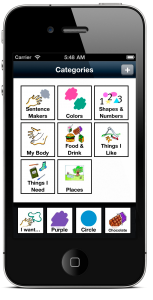 Many children with autism or speech delay use pictures attached to a board to ask for what they need or say how they feel. These boards are stored in a book which the user carries around with them. Even when they begin to speak, they may be difficult to understand, so they rely on a growing picture vocabulary which can become very unwieldy.
As a mother of a little girl with autism with few words but a lot of pictures, I wanted to keep encouraging her speech development, but I wanted to be sure we always had the pictures we needed, wherever we went. This is why I created Grace App for Autism.
Grace App was developed by Steve Troughton-Smith with original artwork by Mary Moroney, and with the support of O2 Telefonica.
Grace App stores a basic picture vocabulary of Foods, Things I like, Places, Colors, Sizes and Shapes on an iPhone/iPad or iPod Touch with a function for creating a sentence that can be read together. There is also a facility for finding and taking photographs of all the other things that each individual user may need.
It is a portable means of supporting the communication development of the user, wherever they go and is proving invaluable in improving vocalisations through consistency of use over time. Grace and the other children have also learned to share what they see and photograph independently, as a result of using the App.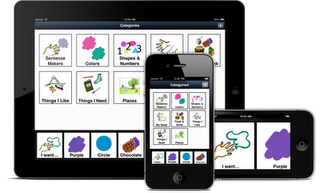 Grace App is for Independent Control
Grace App is intended as a Picture Communication System that the User controls independently to create sentences which discriminate their needs.
The app is deceptively simple as we want the user rather than the carer to take control of choosing and saving pictures, creating sentences and presenting the sentence to a Carer, Teacher, Tutor or Peer in order to have their needs met.
Grace App is for Verbal Behaviour
It is a non-voca – in that we require the user to present the visual sentence and interact with a listener who first models, then prompts the user's attempted pronounciation of each word. The app does not produce a recorded voice as we want the User and Listener to model and attempt each word.  This also ensures verbal behaviour – where the user, however articulate, knows they must find and present their sentence to a listener in order to have their needs met.
High functioning autistic kids can and will say words and sentences to amuse themselves, and then revert to inappropriate behaviour to have their needs met as they do not innately understand this. Grace App keeps the social exchange, each and every time.
"The difference it has made to Ruairi and all our family… we are using it so much more, so his speech is starting to come now." – Orlaith O'Reilly, mother of an Autistic child.
Grace App Does Not Replace Your Child's Voice
It supports the consistent development of the user's articulation, however unintelligible, it may be at the start. Technology does not automatically have to mean voca – particularly with regard to Autism where the understanding of social communication can be very hard to teach. Voca apps and devices have their place with a range of disabilities, but be wary with Autism. You want to ensure the social exchange and development of independent communication as early as you can.
Consider this, if a child has difficulty holding a pen, you may want to teach them to use a laptop to do their school work, but you would still implement a hand writing program to ensure they have the ability to write in order to have an independent life. They may use a keyboard for the majority of their work as we all do, but still be able to write their name and address legibly if required.
The Aim of Grace App is to consistently develop the user's verbal ability – in order to build vocalisations that can be understood by anyone – independent of the app.
Grace App is for Differential Reinforcement
Every exchange is granted but when the user attempts to speak after your prompt, you give extra encouragement, praise and "a bigger slice of the pie" – if they beat your prompt and speak independently, give them the whole pie!
The day they use a full sentence independently without using the App – go and buy a dozen pies!
"We had tried all methods of communication with Shane. He is a real "Techno Kid" and when my Speech and Language Therapist introduced me to Grace App I knew it would make a big difference in our lives." – Gillian Hoey, mother of an Autistic child.
Grace App is for Consistency
A well maintained hard copy picture exchange communication system will do all the above but the problem is, where the books are not being used consistently or correctly by all the Carers in the Users life. I know how hard it is to ensure your learner always uses their sentences, when you are busy, you know what they want and the book is on the other side of the room, or worse – left behind or lost!
The difference with Grace App is that it is portable, discreet, personal – as the User can choose, take and add photographs and it can be replicated across as many devices as you use, simply by syncronising it to your iTunes account.