Apps can be fun. Apps can be useful. But Apps can also be incredibly important and irreplaceable in people's lives. This is a short story of how an iPhone and a young iOS developer completely changed the life of Lisa and her autistic daughter Grace.
Lisa Domican has two children, Liam & Grace. Both have autism and as a result did not develop speech. To allow autistic children with this limitation to communicate with their parents, Picture Exchange Communication Systems (PECS) are used. The term that might as well also describe an IT protocol is used to describe a rather hardware-driven solution: It is a selection of printed laminated pictures.

"The system teaches them to hand you a picture of a drink, which you quickly reward by giving them this drink," explains Lisa. "Little by little you teach them a vocabulary of different pictures for different things, all of which have huge value to the child. At the same time you are pointing to the picture and saying the name of each item in order to encourage the development of speech."
Autism: Pictures as language
The system worked well for Liam, and by the age of four, he started speaking without the pictures. His younger sister Grace did not. "By the age of six, she had over 400 pictures in her vocabulary – but could not say a word", remembers the Australian mother living in Ireland. "Her pictures were stored in a book that I had to carry everywhere, or risk the return to tantrums".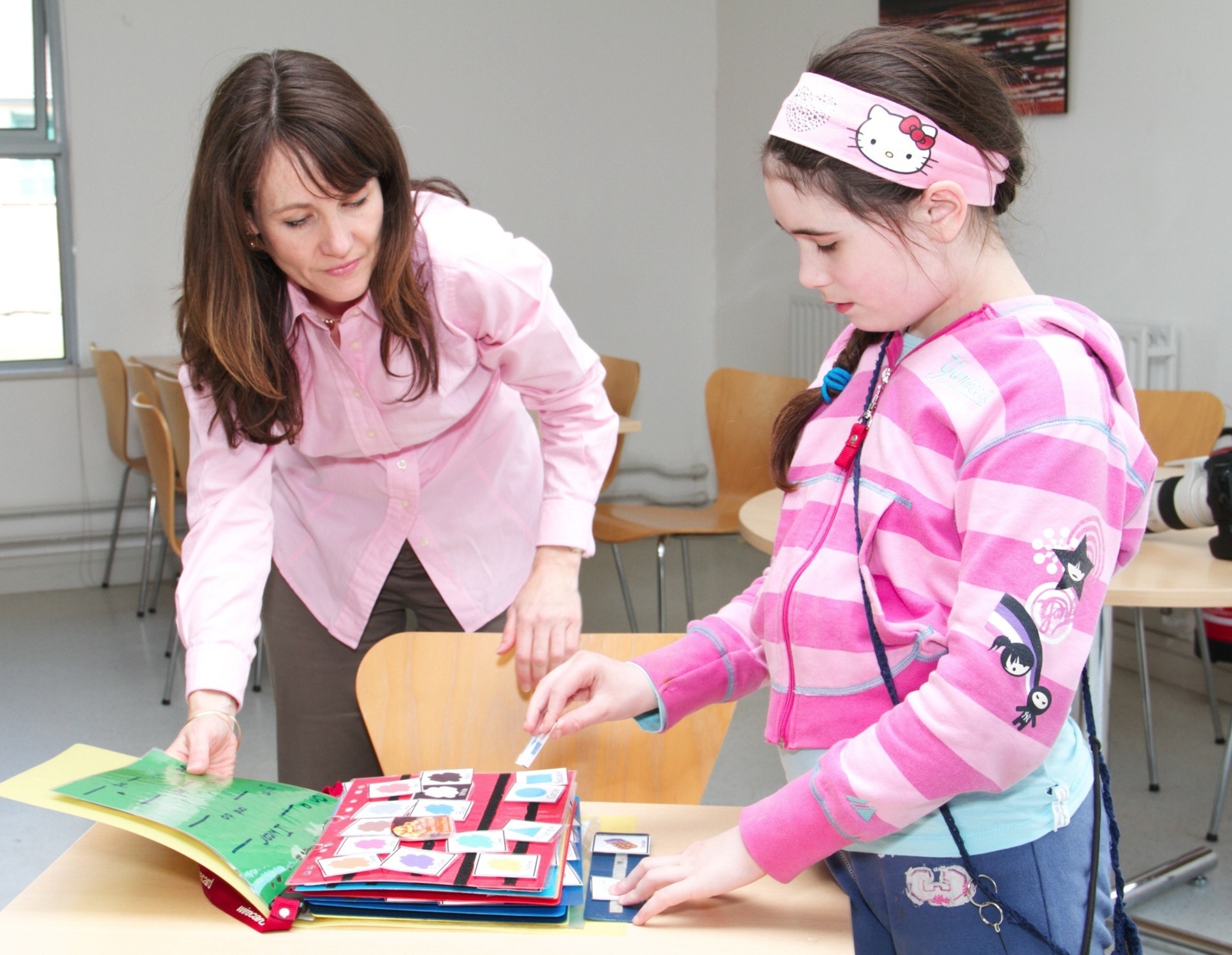 The book was heavy and not very practical, it was growing and growing, but it was the tool through which Grace communicated with her mother, so she took it wherever they went.
"Little pictures on a glass screen"
That is until a billboard gave Lisa a new idea: "Staring out of the window of our car as we paused at the lights, I noticed a huge iPhone advertisement on the side of the street. What grabbed my attention were the little pictures on what appeared to be a glass screen. I wondered if it would be possible to put Gracie's pictures onto that screen."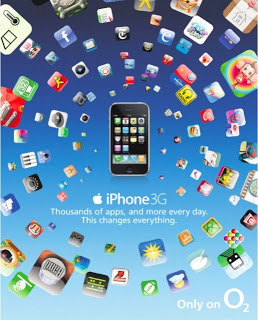 Lisa met the CEO of O2 Telefonica at an autism event shortly after, talked her way into getting an iPhone to try out for free. She was not much of a smart phone user before, but once she had worked out how to use it, she put the 400 pictures from Gracie's picture book on to the iPhone.
Putting the book in the phone
"Gracie was able to access the pictures the first time I showed her and with a point of her finger, she could get whatever she wanted, wherever we went, without carrying that big ugly book," Lisa says.
Still, accessing pictures on the iPhone was not intuitive enough for Grace to "make sentences" as she had with the hard copy system. And once again, coincidence worked in favour of Lisa. She saw a report about a young Irish developer, who made quite a bit of success with his iPhone puzzle game. "He is the first person I had ever heard of who did anything with iPhones. So I Facebook-stalked him, wrote to him." Steven's liked the idea of the app, said "that's a great thing", and that he'll ask his father to drive him to the mall, so they can meet. Steven was just 20 years old at that time.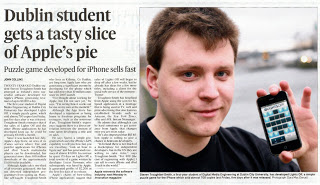 UX: Not the parent, but the child is the user
"I had Gracie's book, I told him the story, I drew a diagram on a white paper bag – which is very much developer-style, as I learned later on." Communication between developing party and instructing party can be difficult. In this case it worked extremely smooth.
"Not only did Steve have the skill to code the App the way I wanted it to work, he also intuitively understood that this was to belong to the user, the person with autism..
So while it was quite complicated to create, it had to be simple and beautiful to use."
An early prototype was created, feedback send back and forth, and the App improved again and again. Eventually, the camera was included, so Grace could take pictures of her own. By now, she is able to combine pictures to full sentences such as:
"I Want  Toast (in) 8 Triangles (and an) Apple – Drink".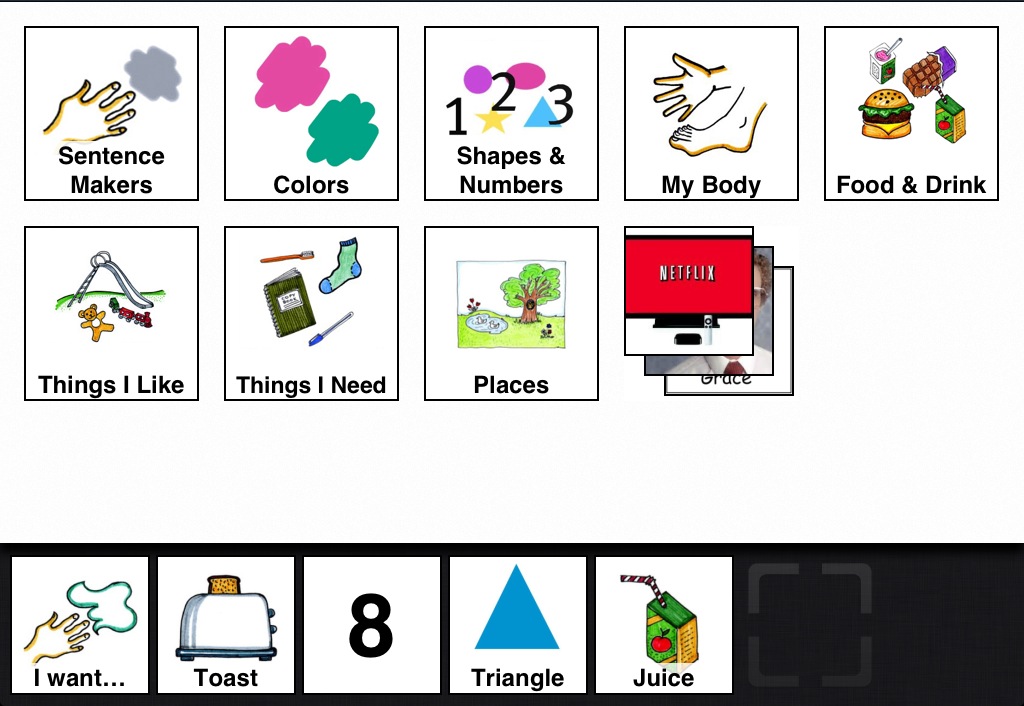 Steve suggested that they name the App after Lisa's daughter and Lisa agreed. "The Grace App" was born.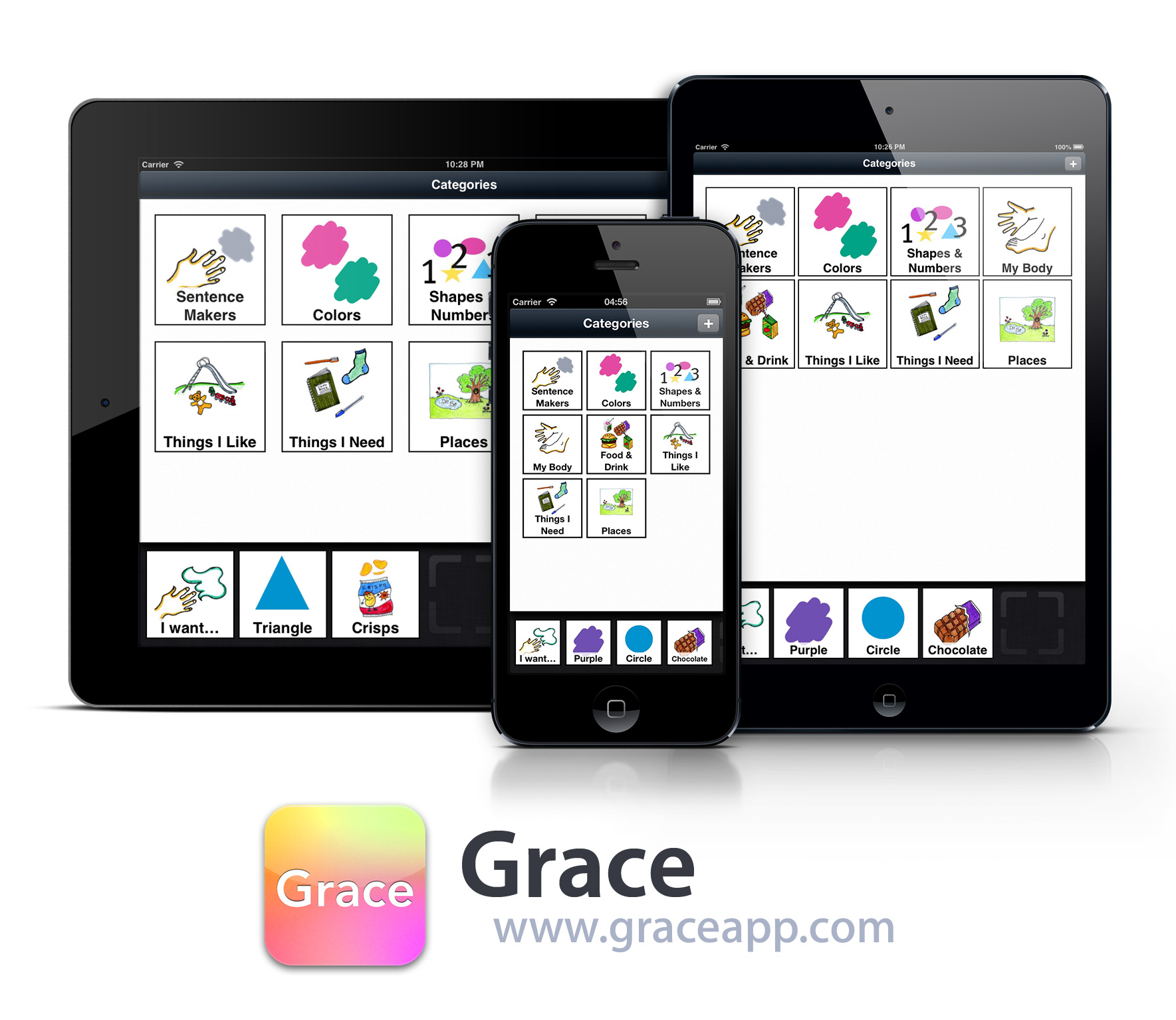 To express her gratitude, Lisa dedicated a combined blog post to him and Steve Jobs, entitled "Two Steve's who changed my life". Steven has been extremely busy, producing apps for different operating systems. Amongst other things, he did also work on porting Siri to the iPhone4. But as comparably simple the Grace App might have been from a technological point of view, it is for sure one of the most beautiful in terms of the use case.
International recognition
People around the world have gotten to know the great contribution of the Grace App, and the app is available to everyone through the iTunes store. The price is about €21 as apps of that kind cannot be advertisement-supported.
Thanks to the Grace App, people with autism can communicate easily with their family, without the need to carry around heavy books, which also often stigmatised them as disabled. Putting the picture system on a smart phone is a simple, yet a very elegant solution.
For this achievement, Lisa & Steven were awarded with prizes such as the Irish Web Award, the UN-cooperated World Summit Award Mobile and the "Women Mean Business" Award for "The Big Idea"
The App has now been translated into 7 languages including German, French and Spanish by Tethras, a mobile app localisation firm based Mountain View, California. and Dublin, Ireland.
The first Android version is also available on the Google Play store offering a lot more choice in screen sizes and more affordable pricing. Lisa is currently trialling a Samsung Note II with Gracie so look out for her feedback and some photographs on the blog and facebook page.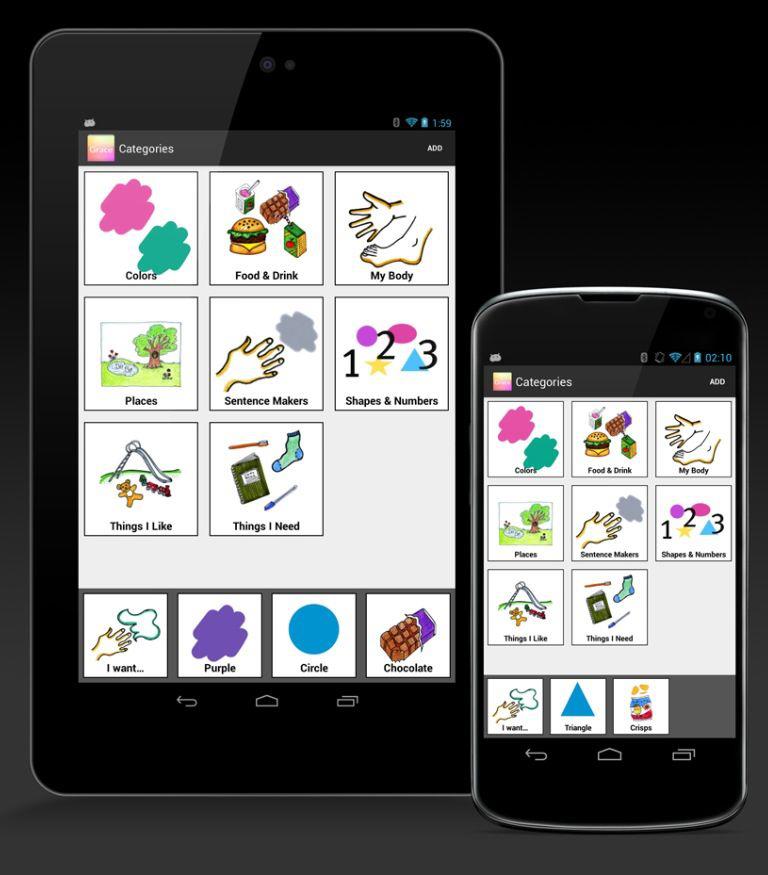 By Andreas Rothe
First published on Telekom Austria 22.12.2011