Lisa is co-creator of Grace App and mother of Liam and Gracie Domican who both have autism. As a parent, Lisa has had 14 years experience of raising her children with autism and has been attending courses and studying evidence based interventions for the last 10 years. As a mother, Lisa fought to understand her initially non-verbal son Liam, and learned to interact with him using the things he liked most. It was the introduction of a simple picture exchange system that prompted Liam to begin imitating and attempting to say the words on the cards he used to make requests.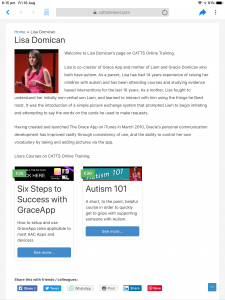 Having created and launched The Grace App on iTunes in March 2010, Gracie's personal communication development has improved vastly through consistency of use, and the ability to control her own vocabulary by taking and adding pictures via the app.
Grace App Workshops are in 2 formats:
The first is presentation style with me at the front of a big room, like a lecture theatre or function room with AV set up.
It lasts for 2 hours* with a half hour for questions. After the first hour I take a break and let people ask for treats with the Grace App.
It works best with a large group. I can plug my iPad in directly to the A/V set up with projector or LCD screen. (Can also mirror with Apple TV)
The second way is "round table" For this I bring a few extra iPhones/iPads with me so people can practice while I present. This would require a big screen to mirror my iPad, but I also do this in classrooms where you have interactive white boards or LCD screens.
This enables a group to work through practical issues. Attendees can stop me throughout the presentation to ask specific questions about pupils they may be working with. The plug in screen means that everyone can see what I am demonstrating. Again I stop to let people practice requesting. It takes about 2 hours with 30 minutes for questions too.
Another option is the new schools online training service for SNAs and teachers "Education Nation"
My Grace App training and Autism101 training are in that system, as well as lots of other courses, which would be available to all your school staff for an annual fee. (This option is only open to schools, and has the full online catalogue, so that schools can access and request training that they need, when they need it during the year).
Each course video can also be shown in full screen, which means if you want to link a phone, or laptop to a projector or electronic whiteboard, you can use it to host staff in service days.
Please take a look at my online training modules here: CATTS Education Nation 
When you complete the Grace App training you will learn:
1. The Six Steps to setting up Grace App as an Alternative Augmentative Communication (AAC) system.
Alternative Communication Strategies:
2. Saying No/ and Wait
3. Teaching First, Then
4. Differential Reinforcement
5. Asking for Help (Replacing inappropriate behaviour)
6. Tell me Where it Hurts
7. Shared Attention.
For Autism 101:
• What is Autism?
• Flags for Autism
• Autism as a Sensory Disability
• Techniques that help
• Using Visual Supports
• Motivation and Reinforcement
• Inappropriate Behaviour
• Social Stories
-For question time I demonstrate responses to issues raised, but I also do a problem solving using a Flipchart.
I am happy to present to parents and professionals at the same time (I can be tactful) but no children or clients themselves. I talk about behavioural issues frankly and it isn't fair to them.
For more information or to book a workshop, please email lisa@graceapp.com or to book through CATTs
Joe Morris
Practice Manager
086 467 9292